We are located just north of Älmhult on the eastern shore of lake Möckeln. We have two cottages for rent, Grindstugan and Gullranda. Read more about the cottages, about us and about some of the wonderful things you can discover and do in the area.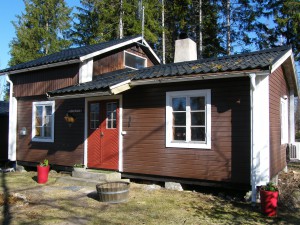 The county of Älmhult is primarily known for two things, Carl von Linnés Råshult and IKEA. Just over 300 years ago Carl von Linné was bor in Råshult. Today you can visit his reconstructed home, see the spice garden and take a walk through the surrounding fields that are tended in the same way as Carls father did. If you are interested in plants and flowers, a visit to Råshult and the Orangeri is a must!
It was in Älmhult that Ingvar Kamprad built his first IKEA store in 1958. Today you can visit IKEAs own museum where you can find furniture from the 1950s to prsent day. This is a genuine piece of swedish furniture history.
In the lake you go fishing, swimming, canoing etc.